TAVALISSE RESOURCES
DOWNLOADS
CLINICAL VIDEOS
PATIENT ONBOARDING
Use these materials to familiarize yourself with information to confidently prescribe TAVALISSE.
Take a closer look at TAVALISSE—learn more about ITP pathogenesis, SYK inhibition, and clinical trial results.
Hear from Dr. Craig Kessler
Professor of Medicine and Pathology with the Division of Hematology-Oncology, Director of the Division of Coagulation in the Department of Laboratory Medicine at the Georgetown University Medical Center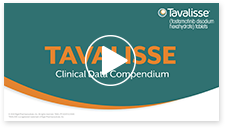 Hear from Dr. Ralph Boccia
Founder and Medical Director for the Center for Cancer and Blood Disorders, Chief Medical Officer for the International Oncology Network Clinical Research Program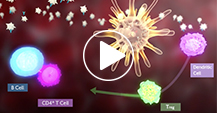 Mechanism of Action
See how TAVALISSE is believed to inhibit downstream signaling that leads to platelet destruction in chronic ITP.