THE 5-YEAR SAFETY ANALYSIS CONTINUES TO SUPPORT LONG-TERM USE OF TAVALISSE
The majority of adverse reactions observed in clinical trials were mild or moderate1
Incidence of common adverse reactions (≥5% of patients)—FIT-1 + FIT-21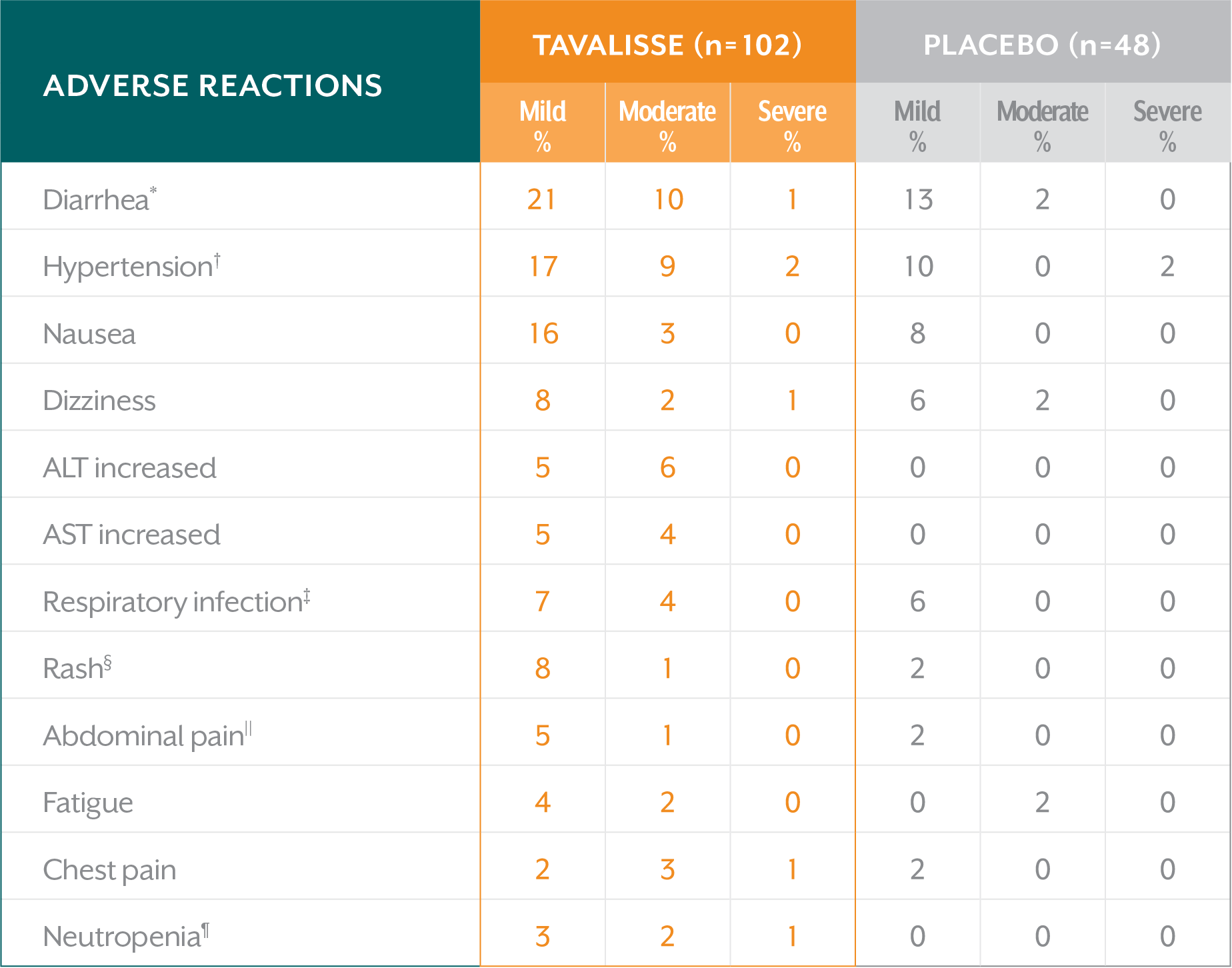 ALT=alanine aminotransferase; AST=aspartate aminotransferase.
*Includes diarrhea and frequent bowel movement.
†Includes hypertension, blood pressure (BP) increased, BP diastolic abnormal, and BP diastolic increased.
‡Includes upper respiratory tract infection, respiratory tract infection, lower respiratory tract infection, and viral upper respiratory tract infection.
§Includes rash, rash erythematous, and rash macular.
||Includes abdominal pain and abdominal pain upper.
¶Includes neutropenia and neutrophil count decreased.
Observations from the placebo-controlled trials (FIT-1 + FIT-2)
Diarrhea was the most common adverse reaction observed1

Diarrhea should be managed with supportive measures (eg, dietary changes, hydration, and/or antidiarrheal medication). If diarrhea becomes severe, interrupt, reduce, or discontinue TAVALISSE (see dose modification guidelines)

10 patients discontinued treatment with TAVALISSE due to adverse reactions3

5 severe AEs led to treatment withdrawal in the TAVALISSE arm: syncope, pneumonia, chest pain, thrombocytopenia, and neutropenia
Nonsevere adverse events leading to withdrawal in the TAVALISSE arm included: alanine aminotransferase increased, diarrhea, neutropenia, abdominal pain, and headache
Most AEs were mild/moderate and resolved or were managed with dose reduction, dose interruption, and/or secondary medication.
References: 1. TAVALISSE® [package insert]. South San Francisco, CA: Rigel Pharmaceuticals, Inc.; April 2018. 2. Bussel JB, Arnold DM, Boxer MA, et al. Long-term fostamatinib treatment of adults with immune thrombocytopenia during the phase 3 clinical trial program. Am J Hematol. 2019;94(5):546-553. 3. Data on file, Rigel Pharmaceuticals, Inc. April 2018.