TREATING CHRONIC IMMUNE THROMBOCYTOPENIA
IMMUNE THROMBOCYTOPENIA IS A HETEROGENEOUS DISEASE WITH A COMPLEX, MULTIFACTORIAL PATHOGENESIs
Immune thrombocytopenia (ITP) is driven by two factors: immune-mediated platelet destruction and limited platelet production1
Dysregulation of the immune system leads to
production of anti-platelet antibodies2

Macrophage recognition of antibody-coated platelets results in
unregulated platelet destruction3

Lysis process results in an amplified production
of anti-platelet antibodies3
Platelet destruction causes decreased levels
of thrombopoietin (TPO)1

Anti-platelet antibodies may also target megakaryocytes,
resulting in impaired megakaryocyte function3

Irregular T-cell response may destroy platelets in bone
marrow and impede platelet production4
Conventional itp treatment options are defined by complexities
Current ITP treatment approaches either decrease platelet destruction or stimulate platelet production3
Corticosteroids
Suppress systemic function and reduce antibody production, resulting in decreased platelet destruction1
Standard first-line therapy for recently diagnosed patients5
Over time, treatment side effects may outweigh the potential benefits5
Most patients relapse upon discontinuation of treatment5
TPO-RAs
Stimulate megakaryocytes in bone marrow to produce platelets3
Associated with potential increases in bone marrow fibrosis5
Evidence of increased thrombotic events with use of certain TPO-RA agents5
Anti-CD20
Depletes B cells3
Increased response when used with concomitant corticosteroids5
A meta-analysis of 5 trials showed that rituximab was not associated with reductions in bleeding5
In a study of response durability, only 21% maintained remission at 5 years5
TPO-RAs=thrombopoietin receptor agonists.
An individualized treatment strategy is needed for patients since ITP is a distinctly heterogeneous disease.
THE INTERNATIONAL CONSENSUS REPORT ON ITP ENDORSES FOSTAMATINIB AS A SECOND-LINE TREATMENT FOR CHRONIC ITP
After first-line treatments fail in adults with ITP, the International Consensus Report recommends5,*,†: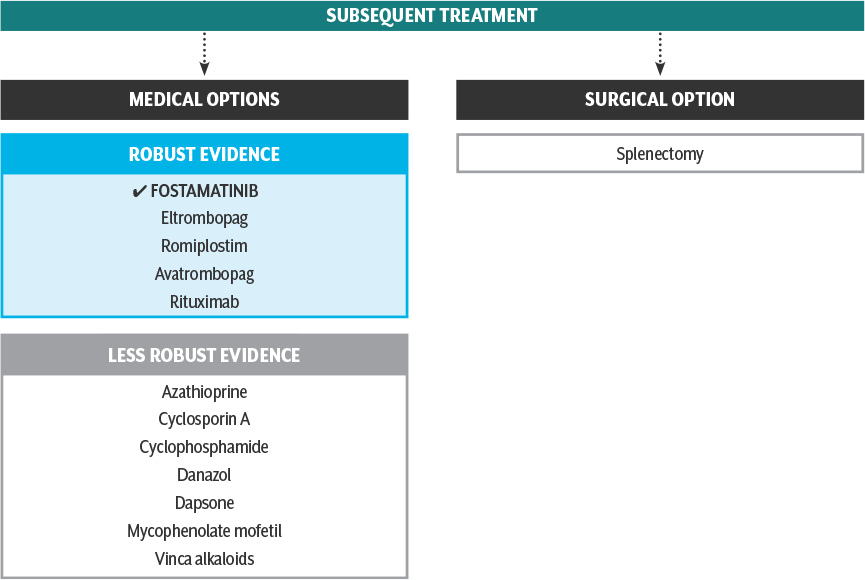 *Adapted from the 2019 publication of the International Consensus Report on ITP.
†Recommended first-line treatments are defined as corticosteroids, intravenous immune globulin, and anti-D.
TAVALISSE presents an opportunity to redefine the treatment landscape
Limiting platelet destruction with the targeted mechanism of TAVALISSE is a novel way to treat chronic ITP6,7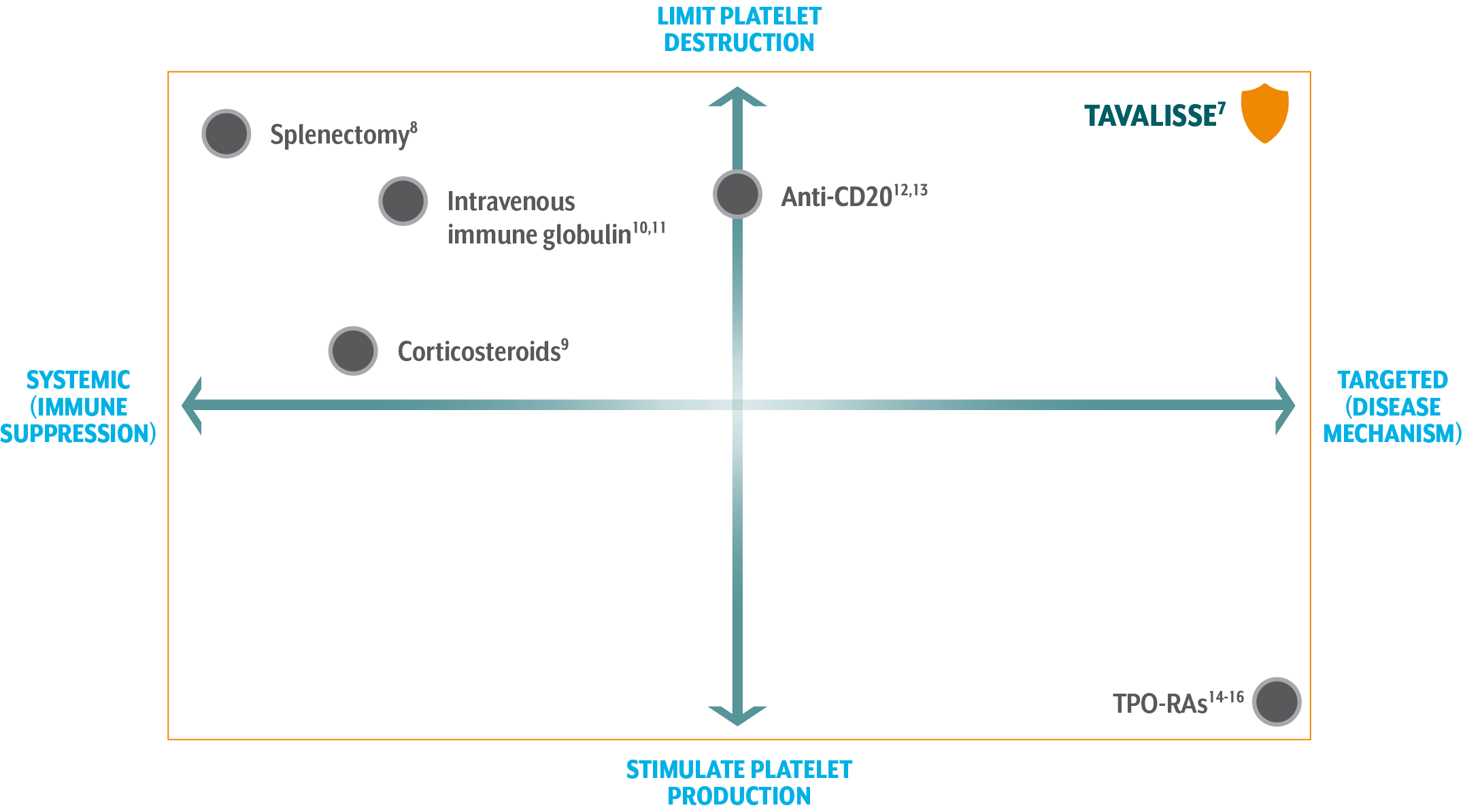 [TAVALISSE] has a unique mechanism of action, dissimilar to other approved ITP therapies, and produced responses in patients who had relapsed or not responded to TPO-RA agents, rituximab, and/or splenectomy.
TAVALISSE is the first spleen tyrosine kinase (SYK) inhibitor indicated for the treatment of thrombocytopenia in adult patients with chronic immune thrombocytopenia (ITP) who have had an insufficient response to a previous treatment6,7
References: 1. Raj AB. Immune thrombocytopenia: pathogenesis and treatment approaches. J Hematol Transfus. 2017;5(1):1056-1065. 2. Shih A, Nazi I, Kelton JG, Arnold DM. Novel treatments for immune thrombocytopenia. Presse Med. 2014;43:e87-e95. 3. Newland A, Lee E, McDonald V, et al. Fostamatinib for persistent/chronic adult immune thrombocytopenia. Immunotherapy. 2018;10(1):9-25. 4. Olsson B, Ridell B, Carlsson L, et al. Recruitment of T cells into bone marrow of ITP patients possibly due to elevated expression of VLA-4 and CX3CR1. Blood. 2008;112(4):1078-1084. 5. Provan D, Arnold DM, Bussel JB, et al. Updated international consensus report on the investigation and management of primary immune thrombocytopenia. Blood Adv. 2019;3(22):3780-3817. 6. Bussel J, Arnold DM, Grossbard E, et al. Fostamatinib for the treatment of adult persistent and chronic immune thrombocytopenia: results of two phase 3, randomized, placebo-controlled trials. Am J Hematol. 2018;93(7):921-930. 7. TAVALISSE® [package insert]. South San Francisco, CA: Rigel Pharmaceuticals, Inc.; April 2018. 8. Ghanima W, Godeau B, Cines DB, et al. How I treat immune thrombocytopenia: the choice between splenectomy or a medical therapy as a second-line treatment. Blood. 2012;120(5):960-969. 9. Mizutani H, Furubayashi T, Imai Y. Mechanisms of corticosteroid action in immune thrombocytopenic purpura (ITP): experimental studies using ITP-prone mice, (NZW x BXSB) F1. Blood. 1992;79(4):942-947. 10. Kistanguri G, McCrae KR. Immune thrombocytopenia. Hematol Oncol Clin North Am. 2013;27(3):495-520. 11. WinRho® SDF [package insert]. Berwyn, PA: Aptevo BioTherapeutics, LLC.; August 2016. 12. Stasi R, Pagano A, Stipa E, Amadori S. Rituximab chimeric anti-CD20 monoclonal antibody treatment for adults with chronic idiopathic thrombocytopenic purpura. Blood. 2001;98(4):952-957. 13. Rituxan® [package insert]. South San Francisco, CA: Genentech, Inc.; April 2019. 14. Doptelet® [package insert]. Durham, NC: Dova Pharmaceuticals, Inc.; June 2019. 15. Nplate® [package insert]. Thousand Oaks, CA: Amgen, Inc.; October 2017. 16. Promacta® [package insert]. East Hanover, NJ: Novartis Pharmaceuticals Corporation; April 2019.